Posted by Andrew VanderPloeg

Micro decisions lead to macro results. On an average day we make 8,746 choices. The choices we make define the leaders we become.
These concepts are the theme for the Chick-fil-A Leadercast this year and once again, our very own Mark Morrison is heavily involved in running the local host site here in London. On Friday, May 4, 2012, many of us will be joining with 400 local business and social sector leaders representing more than 80 organizations to be challenged and to network together.
We're also pretty proud of the fact that the website for the London event is hosted on BarkBuilder!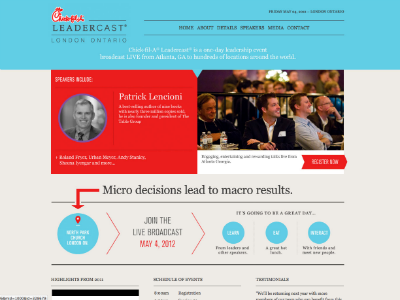 But don't get me wrong. Leadercast isn't just for us! We'll be joining in with more than 800 other host sites from around the world representing 125,000 leaders who will be engaging together via satellite and social media to take part in this great annual event. With speakers like: John Maxwell, Patrick Lencioni, Tim Tebow, Soledad O'Brien and Andy Stanley, we're looking forward to learning about effective decision-making that leads to great results.
If you're interested in attending or perhaps you want to explore running your own Leadercast Host Site, check out the Chick-fil-A Leadercast website.
Additionally, you can track with Leadercast on Twitter @cfaleadercast or with the London host site @LeadercastLON.