Posted by Andrew VanderPloeg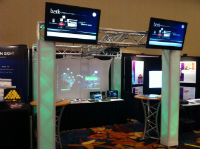 To be clear, we're not all at the annual National Association of Mutual Insurance Companies Convention in Indianapolis, but some of us sure are and if you're there too, we'd love to connect! Our team is manning the booth and so if you've got a few minutes, stop by! To help you find us, here's a shot of our booth.
Looking forward to seeing you!