Posted by Andrew VanderPloeg
I'm not quite sure why, but our company has always featured a healthy contingent of employees who were, or continue to be, volleyball players, myself included.
Part of it likely has something to do with the fact that the city we operate in boasts a strong history of volleyball and an ongoing community of players and coaches, some of whom have played at the highest levels in the world.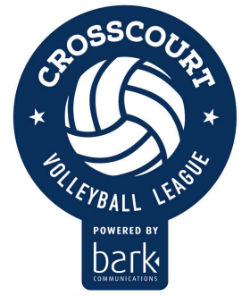 For those of us that continue to play, up until two seasons ago, we were playing in London's city-run league. But two years ago, a new, volleyball-specific facility was opened in London and in turn, a new league launched called CrossCourt Volleyball League.
Given our connection to the game, we wanted to get involved with CrossCourt by helping to establish and grow the new league, and over the past two seasons, we have been the league's platinum sponsor and more recently, partner.
You can check out our work for them in our portfolio, but in short, we developed a logo, website, T-shirts, shot photography, designed promotional postcards, and a sponsor package that has helped the league secure key sponsorships with numerous local and national organizations, including one of the key brands in Canadian volleyball, Mizuno Canada.
Beyond those sponsorship wins, only two years in, CrossCourt boasts 8 leagues, comprised of 100 teams, representing over 1,000 players on a weekly basis. They also run regular weekend tournaments and more recently, have begun to facilitate Volleyball Canada coaching certification courses.
We've been so pleased that our work has been a part of CrossCourt's rapid growth and success and look forward to the future of our partnership with the league and it's impact on the volleyball community in London.